C O A B Discography - Single 28
28th single: Aspire To Heaven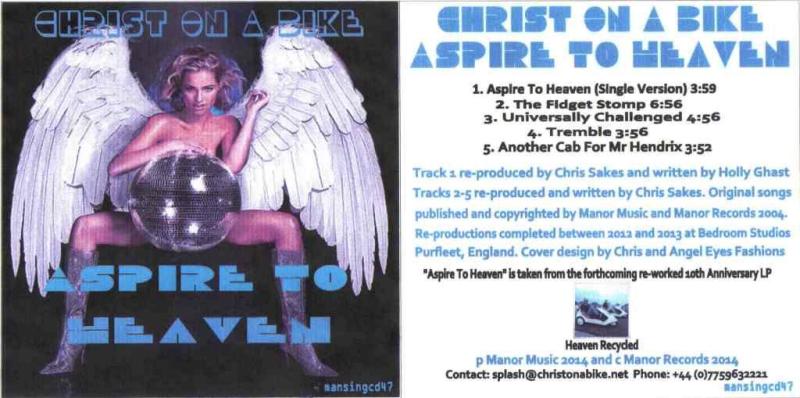 Release Date: 13th January 2014
Track List:
The Fidget Stomp

(6:36)

Universally Challenged

(4:56)

Tremble

(3:48)

Another Cab For Mr Hendrix (3:52)

= THIS TRACK IS STREAMED CLICK ON IT TO LISTEN
Songwriters:
1 - Holly Ghast
2 - 5 - Chris Sakes
Background to the single
Here is the 1st single to be taken from the forthcoming 10th Anniversary LP entitled "Heaven Recycled". This LP is a re-working of 12 of the 20 tracks from the first COAB album "Heaven's Cycle" released in 2004.
The tracks: -
1. Aspire To Heaven is a Holly Ghast song entitled "Aspire" which is re-worked here as a full 4 minute song by Chris Sakes.
2. The Fidget Stomp is a reworking of the infamous "South Park Stomp" from the first LP which contained samples taken from the soundtrack of the South Park TV series game. That song has never been officially released and this version does not contain any samples at all however the song has been given a full make-over with more electronic bass and harder driven drum patterns. There will be another version of this song on the new LP.
3. Universally Challenged Another re-working of a Chris Sakes song from the 2004 LP and is new version of the track "Starter For Ten" with a more electronic pop sound.
4. Tremble An unreleased track from 2004 which was written with the 2nd LP in mind but didn't make the final cut.
5. Another Cab For Mr Hendrix Another unreleased gem from 2005 which was a follow up to the track "A Cab For Mr Hendrix".
The cover features an angel at a disco
To read more and buy this single along with our other singles continue on to each Singles titles page whilst the LPs can be found in the LP titles pages.
Buy it as a download from: Noisehead (all tracks - $0.69c)