C O A B Discography - Single 15
15th single: Child's Play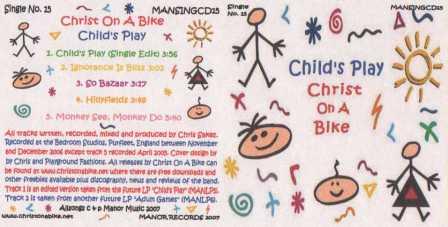 Release Date: 29th January 2007
Track List:
Child's Play (Single Edit)

(3:56)

Ignorance Is Bliss

(3:02)

So Bazaar

(3:17)

Hillyfields

(3:48)

Monkey See, Monkey Do

(5:40)
= THIS TRACK IS STREAMED CLICK ON IT TO LISTEN
Songwriters:
1 - 5 - Chris Sakes
Background to single
Whilst recording "A Geminus Vita" in 2006 Chris had produced a number of instrumental tunes which although the band tended to use vocal samples these just didn't seem to fit these songs and they were therefore left off that LP. The intention was then to record his own vocals on some of the songs but alas the band suffered some equipment failures and technically much of the vocals recorded were of a low quality (even if Chris admits he is no singer, he's not THAT bad!)
There was however, some cracking songs and many of these actually were much suited to being instrumentals anyway. So with some additional songs of similar type from previous recordings in 2005 Chris decided on putting out an instrumental LP in 2007.
When it came to looking over these songs, Chris found a wealth of great songs that were altogether better suited to an instrumental LP anyway but now he had over 15 songs plus he had got the urge to record more!
At this time, one of the band's friends sons had become a huge Christ On A Bike fan (at the tender age of 6). he wasn't allowed to refer to them by name so he called them "The Bikemen"! When Chris saw some great photos of his biggest fan, young Jack become the inspiration for not just one but two new LPs. Borne out of these great playground photos of Jack, a fun and cheerful "Child's Play" LP was hatched, then a more darker set of songs for "Adult Games" the follow-up, came about.
The first four songs of this single are very new, recorded between November and December 2006. "Child's Play" here is an edited version of the title track from the LP, a light and fruitful playground offering of innocence in it's prime, whilst "Ignorance Is Bliss" is probably the least scarier of the songs from "Adult Games". A song about desires than can become an obsession that may well destroy in the end.
"So Bazaar" is a melancholy song about the eastern wonder of wandering around an Egyptian bazaar. "Hillyfields" is a tune that reminisces about school days (it's the name of Chris's primary school in Gillingham). Finally, a much older song from 2005, is a drum n bass tune entitled "Monkey See, Monkey Do", which as the title suggests is about the lessons kids often pick up from their parents that if only they released aren't such good mannerisms.
The cover art reflects that early days of drawing in class as a child.
To read more about the other singles continue on to each Singles titles page whilst the LPs can be found in the LP titles pages.
Buy it soon as a download from: Soundclick (FREE!!!) or Broadjam $0.99c