C O A B Discography
Seventh LP: Download The World Release Date: 10th November 2008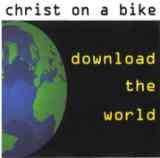 Singles: 1) Tanz
2) Never Stop
3) Waiting
Track List:
C.O.A.B. (Part 1) (2:01)

Download The World (4:37)

Electronic (I Feel So Good) (3:22)

Body Music (5:12)

Tanz (5:13)

It's Like Maybe, Love (4:40)

Never Stop (4:26)

Waiting (5:47)

This Night (4:16)

The Glamour Beat (6:00)

Game Boy (Kiss Me) (3:40)

C.O.A.B. (Part 2) (2:06)

= THIS TRACK IS STREAMED CLICK ON IT TO LISTEN
Songwriter: 1-12 Chris Sakes
Background to LP
1) C.O.A.B (Part 1) This is the first part (obviously) of an ode to the band (you will hear Chris chanting the band's name) and mixes nicely in with the title track. However, not only is there a part two to this song (see track 12) but waiting in the wings due to be released with the "Download The World" single there is a Part 3, longer and stronger!
2) Download The World The title track in its original full version here. This was recorded back in January of 2008 and has been mixed and remixed with heavier drum patterns and more emphasis on the club side, which remixes can be found on the single. this has a lead in track from track 1.
3) Electronic (I Feel So Good) Another of the tracks recorded in the heady days of January/February when a number of songs were being written and recorded. Once again, that electro feel is to the fore with the sampled vocals blending in with the synths and heavy bass line.
4) Body Music There was a time when this was potentially a single and a vocal was being lined up for this from Chris. It might still surface as a vocal track in the future as the band have talked about a remix version of the LP and this is definitely up there for remixes. A beautiful playful song with those electronic synth lines and the treated percussion bouncing along.
5) Tanz The German influence pops up here with a homage to krautrock and specifically that great electronic band, Kraftwerk. This has hard bass drum beats mixed with a firm Germanic spoken vocal, recorded with Giorgio Moroder and of course Ralf & Florian in mind!
6) It's Like Maybe, Love This is a very beautiful and enchanting tune, with a soft lilting American teen vocal merging with a stop start rhythm that glides through the song. The vocal is very "Valley Girl" and helps to give this song its real innocence.
7) Never Stop A very poppy dance song in the electro-pop mould. This was the 2nd single from the LP and came with some very interesting versions including the 5-a-side remix that Chris sings on! Here it is in its entirety, no not him singing! Enjoy.
8) Waiting The third single and probably the most romantic song on the LP. This is the full 5.47 version and really lays on the eloquent vocals from both male and female side. This is a lovers song about a couple who have rowed and broken up but are wishing the other would call or visit regardless. It's just that neither side wants to give in.
9) This Night Originally intended to be a single, this is another stab by the band at blending different genres of music. This time we have with some mellow folk guitar and r n b rhythm being thrown into the melting pot, a truly glorious concoction!
10) The Glamour Beat Had the Download The World track not been such a winner, this song would have been the title track instead. Set to more electronic beats and throbbing bass lines, this is the full version which pitches those guitar synth lines across the catchy rhythm and has that added middle piano break thrown in for even more syrupy pop!
11) Game Boy (Kiss Me) Another of the potential singles that was also recorded around the beginning of 2008 in a flurry of electro frenzy! This is a catchy little number which plays on old school Super Mario brothers Atari type sounds with a pulsing beat. this then it segues its way into....
12) C.O.A.B. (Part 2) This version mixes up the sounds of Game Boy and download The world before running the gambit of electro to the end. With Chris chanting the bands name!
The cover is of the earth taken from the orbiting joint US/Russian space station.
To read more about the singles from this and other LPs go to the Singles sections.
Buy the LP right now from CDBABY!