C O A B Discography - Single 20
20th single: Electronic (I Feel So Good)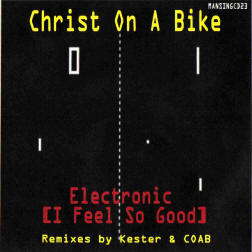 Release Date: 23rd February 2009
Track List:
Electronic (I Feel So Good) [Kester Single Remix]

(3:26)

Electronic (I Feel So Good) [COAB Glitchin' Remix] (5:04)
Electronic (I Feel So Good) [Kester Hardcore Remix] (3:59)
Electronic (I Feel So Good) [COAB Potsdam Platz Remix]

(3:30)

= THIS TRACK IS STREAMED CLICK ON IT TO LISTEN
Songwriters:
1 - 5 - Chris Sakes
Background to the single
Here is the first single to be taken from the remixed version of the Download The World LP, which is entitled "Remix The World", of course!
The mixes: -
1. COAB Remaster Mix is the original version of Electronic with additional bass and heavier drums. This version was toned down because the original bass lines were a bit too heavy but here they are remixed and layered better to produce that drop in the bass bins! So make sure you have the bass turned up! This version does not feature anywhere else.
2. Kester Single Remix is the first of several remixes by Australian dance specialist Kester. This is the slower new age-ish version first delivered by the man! There are more faster versions of this type and the hardcore further on here. This is the shorter version of the track that will be featured on the "Remix The World" LP
3. COAB Glitchin' Remix - This version by the band is a faster dance-laden tune with plenty of dance-ability about it! The bpm goes up from the original 110 to 125bpm and the kick drum and snares are beefed to the max. Bitchin' n Glitchin'!
4. Kester Hardcore Remix lays down a faster 130 bpm track with added synths and heavy kick drum for a techno rock out from the boy from Australia!
5. COAB Potsdam Platz Remix One of Chris' rhythm tracks laid out over the tune with some bleeping synths to add to the original track and siren like bass line. The remix title? Well it's sort of nicked from a lyric in a Wire song and centred on the square in the old East European side of Berlin.
The cover is based on that old game of "PONG" table tennis! Anyone ever own that thing?!
To read more about the other singles continue on to each Singles titles page whilst the LPs can be found in the LP titles pages.
Buy it as a download from: MP3 Player SoundClick ($0.50c) Noisehead (all tracks - $0.69c) or Broadjam $0.99c