C O A B Discography - Single 13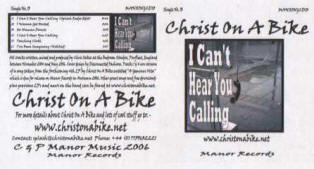 13th single: I Can't Hear You Calling Release Date: 29th August 2006
Track List:
I Can't Hear You Calling (Splash Radio Edit) (3:44)

I Wanna Be Muted

(3:34)

Mr. Numan Directs

(3:59)

I Can't Hear You Calling

(6:23)

Touching Cloth

(4:36)

I've Been Imagining (Nekkid)

(5:07)

= THIS TRACK IS STREAMED CLICK ON IT TO LISTEN
Songwriters:
1 – 6. Chris Sakes
Background to single
"I Can't Hear You Calling" has been around since the end of last year when along with "NY-LON", "Wotcha Wanna Do?" and "Touch" these songs were possible additions to the final version of the "The Beat Conductor" LP. However, only "..Calling" makes the 4th LP with the final three being likely to be included on the band's "Soulful" LP which is currently being worked on for release next year.
Track 1. I Can't Hear You Calling (Splash Radio Edit) is the shortened version of this song which combines a strong 80's backbeat with another of the 80's synth sounds blended into a fine piece of pop. The "warning" and "danger" chants were first found a good few years back but only used for the first time last year when this track was recorded around September 2005 but was subsequently remixed into this version and a different version which will appear on the forthcoming 4th LP "A Geminus Vita". The longer version of this song appears as track 4 here.
Track 2, I Wanna Be Muted is the youngest of the songs featuring on this CD and was originally slated to be an "extra track" on the 4th LP "A Geminus Vita" special edition. This tune has another of those 80's style synths weighted over a hard bass line and a mixed set of percussion sounds and rhythm samples. This was only recorded recently in May 2006.
Track 3, Mr. Numan Directs is yet more 80's influenced pop with a synth hook that is not hard to work out who exactly this song sounds just a little bit like?! Check the title out for sure! This instrumental track is based around the synth hook and some drum sounds reminiscent of the Depeche Mode mid-80's style. This song was recorded back in October 2004.
Track 4, I Can't Hear You Calling is the full six minute-odd version but like main track this is a different mix of the song which will appear on the new LP in September 2006.
Track 5, Touching Cloth was originally an outtake from the "Me, You And Jesus Two" LP, and its subject matter (touching cloth is described by the found sample here) is a little too risqué for an LP! This was one of the songs that might have appeared on a Chris Sakes solo LP but let's say this fits better in this environment! There's no swearing but you might not want the kids to hear this one!
Track 6, I've Been Imagining (Nekkid) was also a possible for the new LP and is made up of a stolen sample from the TV show "Beverly Hillbillies" and has some slow synth bass lines. The other spoken sample maybe recognised from last year's double A side single "Nekkid" (with "Open Your Mind" from the 3rd LP).
The cover has a broken telephone receiver which is a bit of a cheap shot at the title of the song but really we wanted a picture of a man with a disconnected phone but couldn't find one!
To read more about the other singles continue on to each Singles titles page whilst the LPs can be found in the LP titles pages.
Buy it as a download from: Msoundz or Soundclick or Broadjam