C O A B Discography - Single 17
17th single: Tanz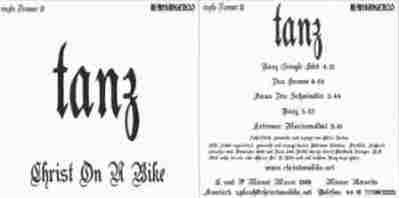 Release Date: 25th July 2008
Track List:
Tanz (Single Edit)

(4:21)

Das Groove

(6:04)

Haus Des Schwindler

(3:44)

Tanz

(5:53)

Extremer Marinesoldat

(3:41)

= THIS TRACK IS STREAMED CLICK ON IT TO LISTEN
Songwriters:
1 - 5 - Chris Sakes
Background to single
So here are the first fruits of Chris's labour, from the end of the "A Geminus Vita" sessions in 2006 through "Child's Play" and "Adult Games" Christ On A Bike were toiling away producing tracks here and there that they knew would begin to shape the next "proper" LP. "Tanz" was borne out of a single German sample about dancing (Tanz) at night and the homage to Kraftwerk sprung up. It isn't quite how Kraftwerk would probably play but perhaps if they were English they might of sung in German for a craic after a few beers! The whole package is in German so apologies if you cannot understand the song titles and cover phrases! Go use a translator online!! We did!
The tracks: -
1. "Tanz" (Single Edit) is a slight remix of the main song edited down as far as is feasible not to take away the groovy elements of the tune. Hard beats mixed with a firm Germanic spoken vocal, recorded with Giorgio Moroder and and of course Ralf & Florian in mind!
2. "Das Groove" is a longer more upbeat and faster track which has gone down well when aired early on Noisehead picking up some instant plaudits. "Welcome back COAB! Nice to see and hear you again" they said. "But we never really went away" was the reply!
3. "Haus Des Schwindler" - Now is your chance to learn some Anglo Saxon words that got into the English and Germanic language. Just say "schwindler" and what does that sound like? Well if you think we are cheating, work it out! This is very much in early Kraftwerk mode circa their "Ralf & Florian" LP of 1973.
4. "Tanz" is the wonderful full LP version to be featured on "Download The World", which is the 7th LP by the band. The tempo is a little more bass like and is fashioned for the electro disco.
5. "Extremer Marinesoldat" this track was also very popular on Noisehead where it was downloaded almost instantly and received praise from Electronica experts Moondog and Dragon On The Wagon. God bless you gentlemen. This is a much more moodier piece but still retaining a solid bass drum kick to merge in with the harmonic vocals and acid house bass lines. This is actually leaning more towards the COAB songs which are being recorded right now (produced in June 08) for the next LP. Yes, that's right we have yet to dispense with the seventh heaven of "Download The World" but Chris already has "We Are Electro" slated as the next LP for early 2009!
The cover depicts the basic Germanic typeface of old 30's Berlin and still used today. Everything where possible is in German including the single number!!
To read more about the other singles continue on to each Singles titles page whilst the LPs can be found in the LP titles pages.
Buy it as a download from: Soundclick ($0.50c) Noisehead (all tracks - $0.69c) or Broadjam $0.99c