The Groove Avengers 5
5th LP: Urbane Release Date: 27th February 2013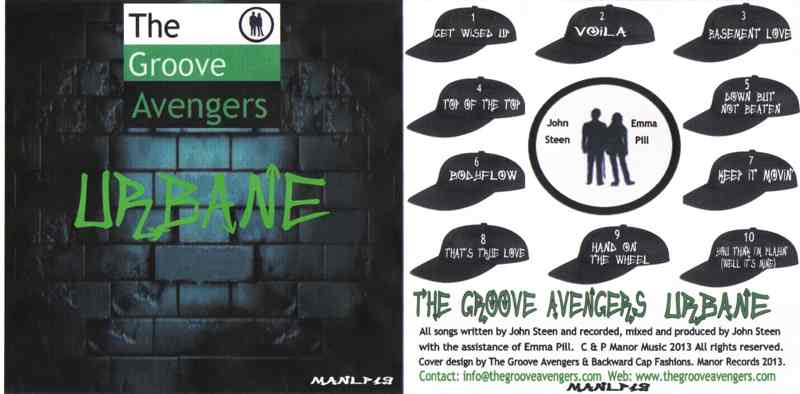 Singles: 1. Basement Love (Single Edit)

(The Groove Avengers 11th single)
2. Down But Not Beaten (Alternate Mix)

(The Groove Avengers 12th single)
3. That's True Love (Move Me Remix)

(The Groove Avengers 13th single)
Track List:
Get Wised Up 6:40
Voila 4:01
Basement Love 5:42
Top Of The Top 3:22
Down But Not Beaten 3:52

Bodyflow 5:18
Keep It Movin' 3:57
That's True Love 4:00
Hand On The Wheel 4:05
You Think I'm Playin' (Well It's Mine) 4:51

= THIS TRACK IS STREAMED CLICK ON IT TO LISTEN
Songwriters:
Background to the LP
This is the 2nd of a triptych of albums from The Groove Avengers, with the theme here being an urban wasteland of sounds covering r n b, hip-hop and rap, soulful harmonies with a blend of urban funk and grime.
The album starts with Get Wised Up, an ode to hip hop salutations and instructions on how the game has to be played by those who "can only wise up"! This is followed by Voila, a throwback but not thrown out from the recordings made for "A Night On The Town" with switch female French vocal blending with smooth r n b and soul harmonies. This is followed by Basement Love the first single to be taken from the LP and again another mixture of genres with urban grime blending in with rock guitar and pianos as this song takes us down to the basement of love where sweet music is made.
Next up we have Top Of The Top. This time its a bouncy bass line and rhythmic synths floating us of into pop-land with male vocal chants. Number five comes up with the oldest song that has been around since 2008. This is an updated version of Down But Not Beaten written for the A Night On The Town LP but not included. The rap added to the song by fellow contributor from the past Ryz Flow (previously known as Faltha Balloon) toasts his way in a MC style across this harmonic down tempo song.
Bodyflow, goes more the way of the nightclub with r n b vocals and synth bass lines under cutting the lead arp synths which run all over this track. Keep It Movin' runs up next, another hip-hop track with its soul in the projects. That's True Love follows, one of the latest songs to be recorded by the band and a very beautiful aching song with tight melodies and sweet female vocals all the way through.
Hand On The Wheel is another new track recorded only at the end of 2012 and mixes the urban sounds of r n b and hip hop in a cruising style transplanting the listener to the city streets of LA or NYC.. An instrumental of real class. The final track is one of TGA's best and hails from their period of working on ANOTT but was not used as the track was seen as a better stand out track within the contest of an urban theme. You Think I'm Playin' (Well It's Mine) goes along the route of 90's duo female vocals of the days of Brandy & Monica.
THE "URBANE" CD WILL BE AVAILABLE ONLINE FROM CD-BABY AND OTHER SITES FEBRUARY 27TH!!
YOU CAN BUY IT HERE STRAIGHT AWAY.
THE CD PURCHASE PRICE IS £7.50 THIS IS TO COVER SHIPPING AND PRINTING COSTS. (YOUR CD ALBUM WILL BE WITH YOU WITHIN 14 DAYS DEPENDING ON YOUR COUNTRY OF RESIDENCE)
CD ALBUM PRICE - £7.50
click below to purchase