The Groove Avengers Discography - Single 1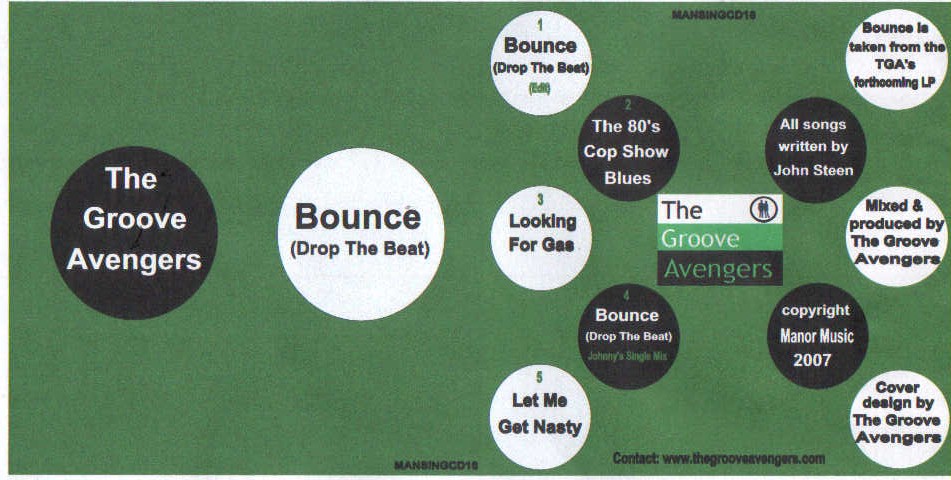 1st Single: Bounce (Drop The Beat) Release Date: 14th September 2007
Track List:
Bounce (Drop The Beat) [Edit]

The 80's Cop Show Blues

Looking For Gas

Bounce (Drop The Beat) [Johnny's Single Mix]

Let Me Get Nasty

= THIS TRACK IS STREAMED CLICK ON IT TO LISTEN
Songwriters: Tracks 1 - 5 John Steen
Background to single
The song Bounce (Drop The Beat) is one of the first songs the group worked on back at the beginning of 2006 and this was the catalyst for a number of r n b recordings interlaced with some hip-hop vocals which were produced during this period including track 2 on this single.
Bounce (Drop The Beat) is reminiscent of bands like EnVogue or British r n b acts like Mystique. The groove is smooth and the female vocals silk-like. The fourth track [Johnny's Single Remix] is a remixed version with harsher more prominent hip hop percussion but still with an r n b soul to it.
The 80's Cop Show Blues is a more a mix of house and hip-hop with a similar time feel to the work of The Beastie Boys like "Sabotage" for instance. This song has gone through several titles though, including "That 70's Thing" and was recorded last year around the time the band had first got started.
Looking For Gas started out as a backing track for a rap style tune but took on a mind of it's own with the additional male voice added as a sample to produce an aura of laid back mystique.
Let Me Get Nasty just missed being the final track on the new LP and is a soft mellow gangsta rap tune but in the style of someone like Lil Kim for instance. Enjoy... but it's a little bit risque!
To hear more about the first LP by The Groove Avengers, go to their LP page.
YOU CAN BUY IT HERE STRAIGHT AWAY.
THE CD PURCHASE PRICE IS £2.50 THIS IS TO COVER SHIPPING AND PRINTING COSTS. (YOUR EP SINGLE WILL BE WITH YOU WITHIN 14 DAYS DEPENDING ON YOUR COUNTRY OF RESIDENCE)
CD SINGLE PRICE - £2.50p click below
Author: splash@christonabike.net
Copyright © 2007 onwards by www.christonabike.net. All rights reserved.
Revised: 28 Jul 2014 19:11:07 +0100 .
©2002 webtemplateszone.com free web templates at webtemplateszone