The Groove Avengers Discography - Single 2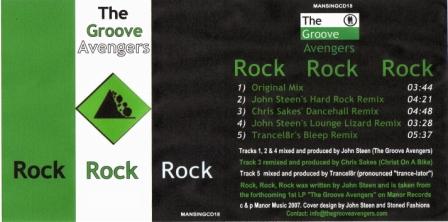 1st Single: Rock, Rock, Rock Release Date: 31st October 2007
Track List:
Rock, Rock, Rock (Original Mix)

Rock, Rock, Rock (John Steen's Hard Rock Remix)

Rock, Rock, Rock (Chris Sakes' Dancehall Remix)

Rock, Rock, Rock (John Steen's Lounge Lizard Remix)

Rock, Rock, Rock (Trancel8r's Bleep Remix)

= THIS TRACK IS STREAMED CLICK ON IT TO LISTEN
Songwriters: Tracks 1 - 5 John Steen
Background to single
Rock, Rock, Rock was not an early piece of work by the band but grew up in the around March 2007 and was an instant success when reviewed on Broadjam where it was aired with two other songs from the LP. The reviews were good with the song making it into the "Electronica - Electronic" Top Ten at No. 6 in September 2007 despite the song not really being electronica, it just doesn't fit too well under jazz or soul or house or dance or well... whatever! It's probably more catchy pop with a fusion of funk and soul!
Track 2 is the first of two remixes by John Steen. The Hard Rock Remix was only recently completed (October 2007) and is yet another concoction of subtle Spanish guitars and synth-drum rhythms that merge into a finale of heavy rock guitar played out across the final two verses. The sound is a little familiar of Prince circa 1985 or even Parliament funk so play the bass heavy!
Track 3 is by COAB's own Chris Sakes and is another take on the smoothness of this song with a lilting dancehall percussion and dub-like bass that echo that catchy set of reggae moves. This Dancehall Remix has Kingston or a sunny Trinidadian beach sound played across it with those cute cuts of the original song slipping in here and there and more Farfisa organ sound cutting across the piece. Some additional female vocals and a male mash-up voice add to the piece. Think Chaka Demus & Pliers, think dancehall remix!
Track 4 is the second of John's remixes with the Lounge Lizard Remix. This also a little slow like the previous remix but develops nicely with a heavy bass vocals layered in alongside the female backing vocals that float in and out as the song builds in a mellow way towards the playful organ response in the middle.
Track 5 introduces you to the Trancel8r! The newest signing to the Manor Records, this dude has been hiding in his studio cooking up techno and trance tunes for the masses or maybe just his best friends!? Here, the Trancel8r gets to play around with some electronics in his Bleep Remix, adding a menacing synth or two and taking the track a little further on with some trance-like arpeggios in the middle section. This guy is worth looking out for!
To hear more about the first LP by The Groove Avengers, go to their LP page.
YOU CAN BUY IT HERE STRAIGHT AWAY.
THE CD PURCHASE PRICE IS £2.50 THIS IS TO COVER SHIPPING AND PRINTING COSTS. (YOUR EP SINGLE WILL BE WITH YOU WITHIN 14 DAYS DEPENDING ON YOUR COUNTRY OF RESIDENCE)
CD SINGLE PRICE - £2.50p
click below to purchase
Author: splash@christonabike.net
Copyright © 2007 onwards by www.christonabike.net. All rights reserved.
Revised: 28 Jul 2014 19:11:07 +0100 .
©2002 webtemplateszone.com free web templates at webtemplateszone