The Groove Avengers Discography - Single 10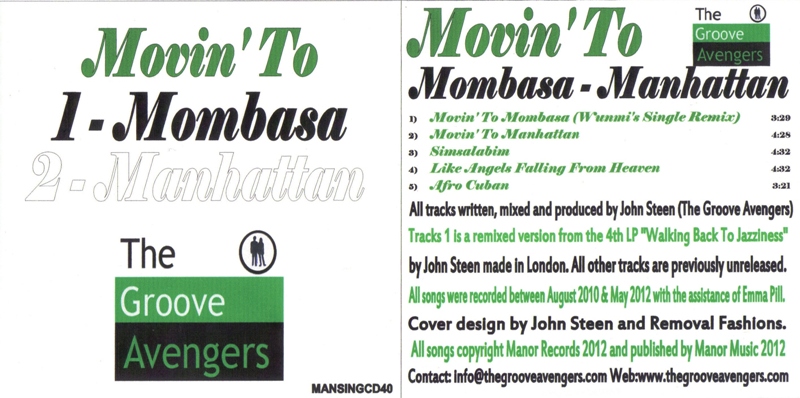 7th Single: Movin To Mombasa / Movin To Manhattan Release Date:15th October 2012
Track List:
Movin' To Mombasa (Wunmi's Single Mix)

Movin' To Manhattan

Simsalabim

Like Angels Falling from Heaven

Afro Cuban

= THIS TRACK IS STREAMED CLICK ON IT TO LISTEN
Songwriters: Tracks 1 - 5 John Steen
Background to single
Here is the 3rd single from the 4th LP "Walking Back To Jazziness".
Movin' To Mombasa (Wunmi's Single Mix) is a longer version of the track form the LP and features more vocals and slightly different piano and marimba pieces.
Movin' To Manhattan is a companion piece to the main Movin' song here but is done in a New York jazz style.
Simsalabim is certainly a song that could have made it onto the LP but nonetheless it is a superb instrumental piece with a flavour of old Turkish bazaars and a melodious mixture of acoustic guitars and brass.
Like Angels Falling From Heaven was actually going to be a single and also nearly made it onto the LP. This smooth slow piece sets the background to choral synths and flowing chords.
Afro Cuban was completed only recently and has been through several different versions coming out as a mixture of African bush music mixed with Cuban based guitar and brass..
YOU CAN BUY IT HERE STRAIGHT AWAY
THE CD PURCHASE PRICE IS £1.99 THIS IS TO COVER SHIPPING AND PRINTING COSTS. (YOUR EP SINGLE WILL BE WITH YOU WITHIN 14 DAYS DEPENDING ON YOUR COUNTRY OF RESIDENCE)
CD SINGLE PRICE - £1.99p click below
To hear more about the fourth LP by The Groove Avengers, go to their 4th LP page
Author: splash@christonabike.net
Copyright © 2007 onwards by www.christonabike.net. All rights reserved.
Revised: 28 Jul 2014 19:11:08 +0100 .
©2002 webtemplateszone.com free web templates at webtemplateszone