The Groove Avengers Discography - Single 14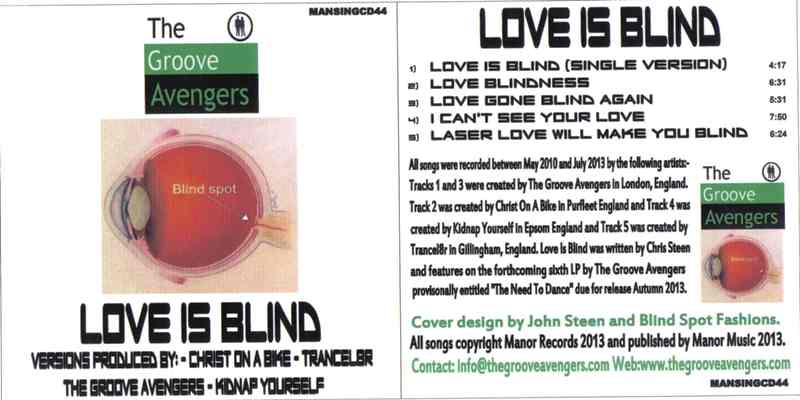 14th Single: Love Is Blind (Single Version)

Release Date:29th July 2013
Track List:
Love Blindness

Love Gone Blind Again

I Can't See Your Love

Laser Love Will Make You Go Blind

= THIS TRACK IS STREAMED CLICK ON IT TO LISTEN
Songwriters: Tracks 1 - 5 John Steen
Background to single
Here is the 1st single from the forthcoming 6th LP "The Need To Dance".
Love Is Blind (Single Version) is a more club-cenric single version of the LP track which is taken from the forthcoming 6th LP. This version was created by the band themselves.
Love Blindness is an electro version of the song created by labelmates Christ On A Bike and features some hard thumping bass drum and synth keyboards.
Love Gone Blind Again is another version by the band again, this time with new drum pattern and overlaid vocal harmonies.
I Can't See Your Love is totally different version, slower and intentionally smooth and crisp to the air and created by TGA's brand new labelmates Kidnap Yourself, soon to record and produce their new songs for Manor Records.
Laser Love Will Make You go Blind is the creation of fellow Manor Records artist Trancel8r who beefs up the trancey EBM sound to bash out a hardcore but nonetheless totally danceable re-production.
YOU CAN BUY IT HERE STRAIGHT AWAY
THE CD PURCHASE PRICE IS £1.79 THIS IS TO COVER SHIPPING AND PRINTING COSTS. (YOUR EP SINGLE WILL BE WITH YOU WITHIN 14 DAYS DEPENDING ON YOUR COUNTRY OF RESIDENCE)
CD SINGLE PRICE - £1.79p click below
To hear more about the sixth LP by The Groove Avengers, go to their 6th LP page
Author: splash@christonabike.net
Copyright © 2007 onwards by www.christonabike.net. All rights reserved.
Revised: 09 Sep 2017 18:50:00 +0100 .
©2002 webtemplateszone.com free web templates at webtemplateszone