The Groove Avengers Discography - Single 5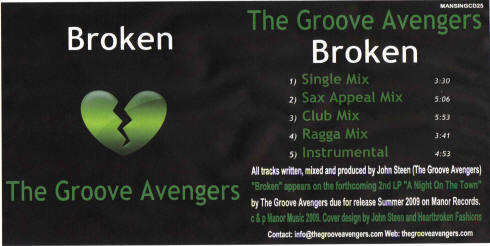 5th Single: Broken Release Date: 10th August 2009
Track List:
Broken (Single Mix)

Broken (Sax Appeal Mix)

Broken (Club Mix)

Broken (Ragga Mix)

Broken (Instrumental)

= THIS TRACK IS STREAMED CLICK ON IT TO LISTEN
Songwriters: Tracks 1 - 5 John Steen
Background to single
Here is the 2nd single from the forthcoming LP "A Night On The Town". Here the band record some urban r n b and lament the break up of a once promising relationship.
The Single Mix is a shorter version of the main track which will feature on forthcoming 2nd LP by the band. This is a slightly more uptempo version of the r n b theme with a bit more bass than the original long version.
The Sax Appeal does what it says on the tin, provides some saucy horns in a re-arranged slower-paced version of the song with a mixture of saxes, trombones and trumpets and some heavy bass-line, old school scratches, clarinets and sweeping pads. Groovy!
Club Mix throws some 909 bass and drums patterns from the 90's and mixes it up with some r n b juices from the 00's as the club mix unfolds on the dance floor throwing percussion everywhere!
Ragga Mix is a throwback to the early 90's when ragga really could throw shapes on dance floors and was a link between reggae/dub and house before drum n bass broke the mould and jungle ripped its ears off! Hey whatever happened to Apache Indian?
Instrumental is the original track in its most urban form sans vocals.
To hear more about the second LP by The Groove Avengers, go to their 2nd LP page.
YOU CAN BUY IT HERE STRAIGHT AWAY
THE CD PURCHASE PRICE IS £1.99 THIS IS TO COVER SHIPPING AND PRINTING COSTS. (YOUR EP SINGLE WILL BE WITH YOU WITHIN 14 DAYS DEPENDING ON YOUR COUNTRY OF RESIDENCE)
CD SINGLE PRICE - £1.99p click below
Author: splash@christonabike.net
Copyright © 2007 onwards by www.christonabike.net. All rights reserved.
Revised: 28 Jul 2014 19:11:08 +0100 .
©2002 webtemplateszone.com free web templates at webtemplateszone