Trancel8r Discography - CD Single 2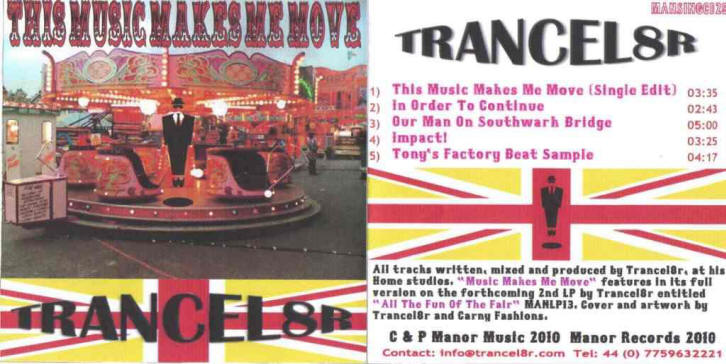 2nd Single: This Music Makes Me Move Release Date: 4th May 2010
Track List:
This Music Makes Me Move (Single Edit)

In Order To Continue

Our Man On Southwark Bridge

Impact!

Tony's Factory Beat Sample

= THIS TRACK IS STREAMED CLICK ON IT TO LISTEN
Songwriters: Tracks 1 - 5 Trancel8r
Background to single
This Music Makes Me Move was written in November 2009 and released for download in its original form on Noisehead.com at the same time and although it met with some approval did not spark a huge amount of interest. This is an updated version and now edited as single.
In Order To Continue was also written around the same time as the track 1 and has a neat vocoder sample taken from a weather girl report. The track is catchy with a light breeze of arpeggio synth-lines and some neat piano tingles beefed up in the chorus.
Our Man On Southwark Bridge was written in early 2009 and was intended to be a mirror track to the first LP's "The Beat On Maltravers Street" as this is about the area of Southwark in London (where the Cathedral, Clink prison and Borough Market are). It is dedicated to a certain Matthew Webb, manager and practising campanologist (that's a bell ringer to you!). You will no doubt hear plenty of bells on this then!!!!
Impact! was intended to go on the 1st LP but with with a number of shorter tracks to play with, this was left over for potential single. Its a hybrid fast paced techno track with a fair wad of heavy rhythm and bass line.
Tony's Factory Beat Sample was another left over from the 1st LP and was written in 2007 recorded not long after the 1st LP. The Tony in question here was the great manager and broadcaster, Tony H Wilson.
To hear more about the first LP by Trancel8r, go to his LP page.
YOU CAN BUY IT HERE STRAIGHT AWAY.
THE CD PURCHASE PRICE IS £2.50 THIS IS TO COVER SHIPPING AND PRINTING COSTS. (YOUR EP SINGLE WILL BE WITH YOU WITHIN 14 DAYS DEPENDING ON YOUR COUNTRY OF RESIDENCE)
CD SINGLE PRICE - £2.50p click below
Author: splash@christonabike.net
Copyright © 2007 onwards by www.christonabike.net. All rights reserved.
Revised: 28 Jul 2014 19:11:09 +0100 .
©2002 webtemplateszone.com free web templates at webtemplateszone