Trancel8r Discography - CD Single 3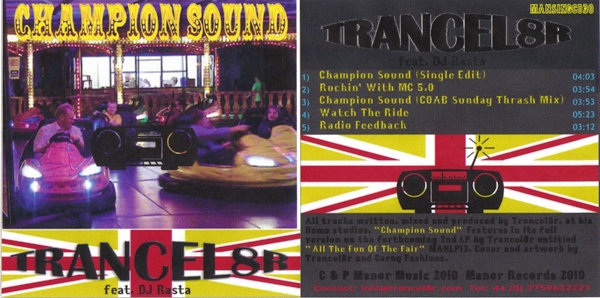 1st Single: Champion Sound (feat DJ Rasta) Release Date: 6th June 2010
Track List:
Champion Sound (Single Edit)

Rockin' With MC 5.0

Champion Sound (COAB Sunday Thrash Mix)

Watch The Ride

Radio Feedback

= THIS TRACK IS STREAMED CLICK ON IT TO LISTEN
Songwriters: Tracks 1 - 5 Trancel8r
Background to single
This is the third CD single from the forthcoming LP and here Trancel8r joins up with MC toaster DJ Rasta to issue a joint musical communique of dubstep and trance with a tasty single treat of Champion Sound. The main song is a mix of dubstep and trancey synths blended with a ragga vocal from DJ Rasta.
Rockin With MC 5.0 is in a more hip-hop/reggae style with a solid synth bass-line and thumping rhythms inter-mingled with some catchy off kilter synths in the bridge to play out this toe-tapping track.
Champion Sound (COAB Sunday Thrash Mix) sees the return of Christ On A Bike's Chris Sakes with a haunting remix of heavy bass and arpeggio synths laid out over a electro beat on the main track.
Watch The Ride has DJ Rasta return with a "talk-over" on this pseudo-techno track at 140bpm. Again, the mode of the whole CD is one of deep bass-lines and dub style effects laid out with the vocal thrash of DJ Rasta and some squelchy synths.
Radio Feedback was recorded in March 2010 and features some captured radio voices distorted for the single played out over some treated guitar feedback and a dub bass and drum sound with a neat synth string arrangement.
To hear more about the first LP by Trancel8r, go to his LP page.
YOU CAN BUY IT HERE STRAIGHT AWAY.
THE CD PURCHASE PRICE IS £2.50 THIS IS TO COVER SHIPPING AND PRINTING COSTS. (YOUR EP SINGLE WILL BE WITH YOU WITHIN 14 DAYS DEPENDING ON YOUR COUNTRY OF RESIDENCE)
CD SINGLE PRICE - £2.50p click below
Author: splash@christonabike.net
Copyright © 2007 onwards by www.christonabike.net. All rights reserved.
Revised: 28 Jul 2014 19:11:09 +0100 .
©2002 webtemplateszone.com free web templates at webtemplateszone