Trancel8r Discography - CD Single 5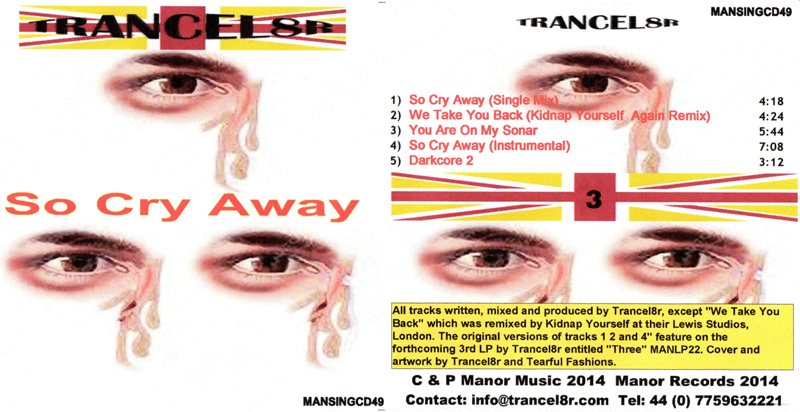 1st Single: So Cry Away Release Date: 22nd September 2014
Track List:
So Cry Away (Single Mix)

We Take You Back (Kidnap Yourself Again Remix)

You Are On My Sonar

So Cry Away (Instrumental)

Darkcore 2

= THIS TRACK IS STREAMED CLICK ON IT TO LISTEN
Songwriters: Tracks 1 - 5 Trancel8r
Background to single
This is the first CD single from the forthcoming 3rd LP by Trancel8r his first for 2014.
So Cry Away (Single Mix) Another of the set of songs first recorded in early 2012 during session recordings for the third LP. This version is a shortened and slightly lighter version than the full length LP version and the instrumental track also on this CD.
We Take You Back (Kidnap Yourself Again Remix) New Manor Record signings Kidnap Yourself get to roll out a remix for Trancel8r and have also supplied another remix for another single. This track will be on the third album and here it has been given a thorough run through in retro acid house and dubstep style.
You Are On My Sonar This song was also recorded during the 2012 sessions and has also been re-worked although just the once in this case. This song mixes dubstep grime and hardcore into a full on blast.
So Cry Away (Instrumental) This the full instrumental version of the elad track although this is the original demo version with a few minor alterations here and there.
Darkcore 2 For all those that loved Tranceli8r's darkcore from the second LP, here it has been mutated into another wodge of dub hardcore and heavy rant in the old school ragga style.
The cover depicts triple tears of a man as per the title of the main song whilst hinting towards the 3rd LP title as well, "Three".
To hear more about the third LP by Trancel8r, go to his LP page.
YOU CAN BUY IT HERE STRAIGHT AWAY.
THE CD PURCHASE PRICE IS £2.50 THIS IS TO COVER SHIPPING AND PRINTING COSTS. (YOUR EP SINGLE WILL BE WITH YOU WITHIN 14 DAYS DEPENDING ON YOUR COUNTRY OF RESIDENCE)
CD SINGLE PRICE - £2.50p click below
Author: splash@christonabike.net
Copyright © 2007 onwards by www.christonabike.net. All rights reserved.
Revised: 16 Sep 2014 20:02:06 +0100 .
©2002 webtemplateszone.com free web templates at webtemplateszone