Trancel8r Discography - CD Single 6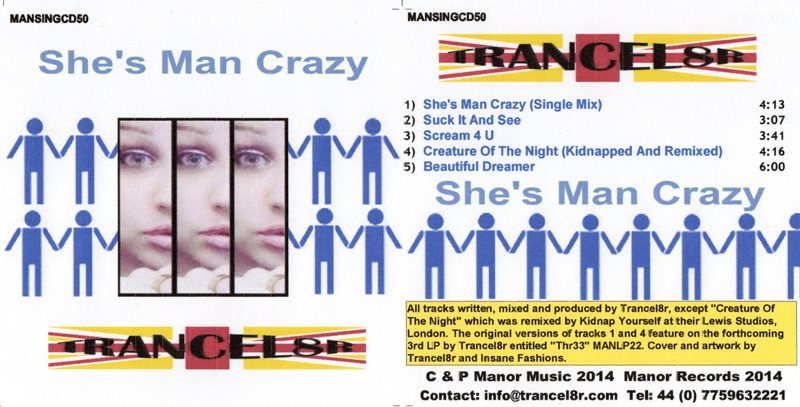 1st Single: She's Man Crazy Release Date: 10th November 2014
Track List:
She's Man Crazy (Single Mix)

Suck It And See

Scream 4 U

Creature Of The Night (Kidnapped And Remixed)

Beautiful Dreamer

= THIS TRACK IS STREAMED CLICK ON IT TO LISTEN
Songwriters: Tracks 1 - 5 Trancel8r
Background to single
This is the first CD single from the forthcoming 3rd LP by Trancel8r his first for 2014.
She's Man Crazy (Single Mix) This is a slightly altered version of the LP track from the forthcoming LP Thr33 and has been edited with heavier bass and drum patterns for a single mix.
Suck It And See Was a track recorded for the 2nd LP which wasn't completed in time to be added as a single or LP track this tech house song was recorded in 2012 and features drum patterns re-dubbed into a hollow mix which has arpeggio synths and dub bass.
Scream 4 U recorded in 2012 and issued on Noisehead.com at the time of the official release of the film Scream 4 although it does not of course feature in the film or appear on any soundtrack or use any sounds from said film!
Creature Of The Night (Kidnapped And Remixed) Remixed in a dubstep style by Manor Records stablemates Kidnap Yourself, this track has all the hallmark of some seriously scary chants and bass and FX.
Beautiful Dreamer This track was of the final tracks recorded during 2014 and could well have been released as a single in it sown right or even made the LP. Entrancing piece of sped-up electro and tech step,
The cover depicts the man crazy lady of the title.
To hear more about the third LP by Trancel8r, go to his LP page.
YOU CAN BUY IT HERE STRAIGHT AWAY.
THE CD PURCHASE PRICE IS £2.50 THIS IS TO COVER SHIPPING AND PRINTING COSTS. (YOUR EP SINGLE WILL BE WITH YOU WITHIN 14 DAYS DEPENDING ON YOUR COUNTRY OF RESIDENCE)
CD SINGLE PRICE - £2.50p click below
Author: splash@christonabike.net
Copyright © 2007 onwards by www.christonabike.net. All rights reserved.
Revised: 03 Nov 2014 20:26:34 -0000 .
©2002 webtemplateszone.com free web templates at webtemplateszone