Trancel8r Discography - CD Single 1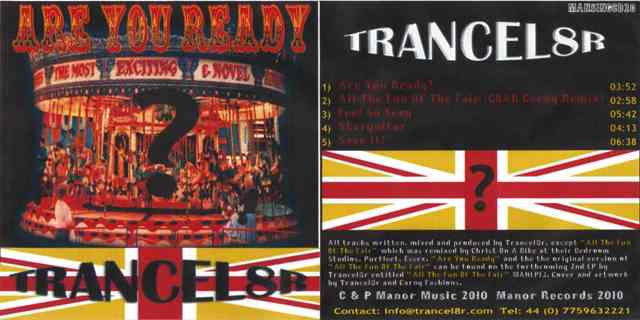 1st Single: Are You Ready? Release Date: 6th April 2010
Track List:
Are You Ready?

All The Fun Of The Fair (COAB Carny Remix)

Feel So Sexy

Starguitar

Save It!

= THIS TRACK IS STREAMED CLICK ON IT TO LISTEN
Songwriters: Tracks 1 - 5 Trancel8r
Background to single
The song Are You Ready? was only recorded as recently as February 2010 and is definitely a change of style for Trancel8r moving into more drum n bass pop however this 135bpm track still runs fast and hot and was an immediate candidate for Trancel8r's first ever CD single.
All The Fun Of The Fair (COAB Carny Remix) is a new version by Christ On A Bike's Chris Sakes who has taken the title track from the new Trancel8r LP and twisted it with electro pop beats and new synth bass lines along with a fun fair sample to boot!
Feel So Sexy was another of those new tracks written only recently in a really prolific period for the Trancel8r boy. Here, the deep bass line and some arpeggio lead synths mingle with the female lead vocals to rock out on this hot track.
Starguitar started out as a potential track for the LP but there was quite enough new drum n bass sounds for the LP so this was added to the first single and shows just how much Trancel8r has added other genres to his bow mixing both dub step and grime with drum n bass but still retains that high pitch hook line.
Save It! recorded not long after the 1st LP in 2008 and has been remixed several times since then and now leads up the rear on this brand new CD single.
To hear more about the first LP by Trancel8r, go to his LP page.
YOU CAN BUY IT HERE STRAIGHT AWAY.
THE CD PURCHASE PRICE IS £2.50 THIS IS TO COVER SHIPPING AND PRINTING COSTS. (YOUR EP SINGLE WILL BE WITH YOU WITHIN 14 DAYS DEPENDING ON YOUR COUNTRY OF RESIDENCE)
CD SINGLE PRICE - £2.50p click below
Author: splash@christonabike.net
Copyright © 2007 onwards by www.christonabike.net. All rights reserved.
Revised: 28 Jul 2014 19:11:09 +0100 .
©2002 webtemplateszone.com free web templates at webtemplateszone