The Groove Avengers Discography - Single 4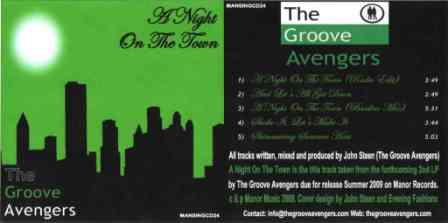 4th Single: A Night On The Town Release Date: 6th July 2009
Track List:
A Night On The Town (Radio Edit)

And Let's All Get Down

A Night On The Town (Bassline Mix)

Shake It, Let's Make It

Shimmering Summer Heat

= THIS TRACK IS STREAMED CLICK ON IT TO LISTEN
Songwriters: Tracks 1 - 5 John Steen
Background to single
Well they are back after 18 months although they haven't been that quiet. here is the first sample of their 2nd LP wares!
A Night On The Town (Radio Edit) is a shorter version of the title track from the forthcoming 2nd LP by the band. This is just as groovy and encapsulates the freshness of these delightful out on the town tune. Funky, Housey, Clubby, it's got the lot!
And Let's All Get Down was recorded for the first LP but that doesn't make this a reject. more the fact that the band only ever issue ten track LPs! this has been remixed and updated with some extra bass synths that make it slightly more funky.
A Night On The Town (Bassline Mix) is a rough and tumble version of the main track with additional 808 basslines and a more robust snare track.
Shake It, Let's Make It was for some reason made around the time the band met Gok Wan (of How To Look Good Naked fame) not sure why but the vocal sample used sounds very familiar! They swear they didn't take it from anywhere but a legal source!
Shimmering Summer Heat is a funky horn track written with the hot New York City Summer nights in mind. It smoulders, it sizzles, it's hot!
To hear more about the second LP by The Groove Avengers, go to their 2nd LP page.
YOU CAN BUY IT HERE STRAIGHT AWAY
THE CD PURCHASE PRICE IS £1.99 THIS IS TO COVER SHIPPING AND PRINTING COSTS. (YOUR EP SINGLE WILL BE WITH YOU WITHIN 14 DAYS DEPENDING ON YOUR COUNTRY OF RESIDENCE)
CD SINGLE PRICE - £1.99p click below
Author: splash@christonabike.net
Copyright © 2007 onwards by www.christonabike.net. All rights reserved.
Revised: 28 Jul 2014 19:11:08 +0100 .
©2002 webtemplateszone.com free web templates at webtemplateszone