Trancel8r Discography - CD Single 4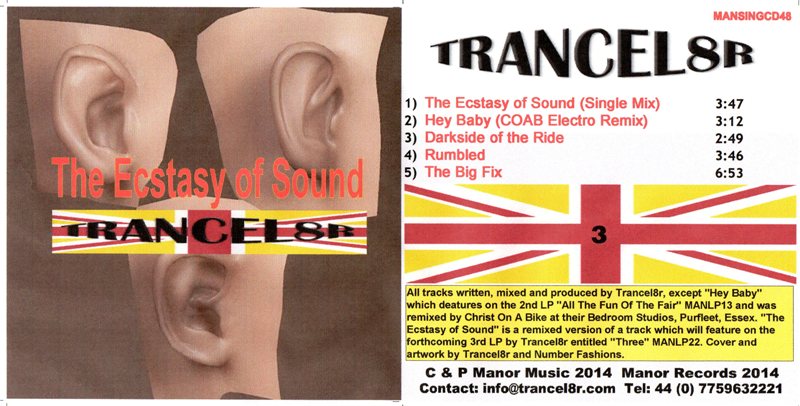 1st Single: The Ecstasy of Sound Release Date: 18th August 2014
Track List:
The Ecstasy of Sound (Single Mix)

Hey Baby (COAB Electro Remix)

Darkside Of The Ride

Rumbled

The Big Fix

= THIS TRACK IS STREAMED CLICK ON IT TO LISTEN
Songwriters: Tracks 1 - 5 Trancel8r
Background to single
This is the first CD single from the forthcoming 3rd LP by Trancel8r his first for 2014.
The Ecstasy of Sound (Single Mix) This was one of the first songs completed during the early 2012 session recordings for the third LP. This song has since gone through several remixes and this version, shorter than the LP version has far heavier drums and bass synths than the original.
Hey Baby (COAB Electro Remix) Like a previous COAB remix from Chris Sakes of the TL8R2 track "All The Fun Of The Fair" , this track from the second album has been re-worked by COAB in a slightly lighter electro remix. Chris is also in the process of remixing one or two of the new third LP tracks for further singles.
Darkside Of The Ride This song was recorded during the 2012 sessions and has also been re-worked although just the once in this case. Blended bass and drums on this song make the sound heavy with a lean towards dubstep and booming grime.
Rumbled Another song which was around during the 2010 recordings for the 2nd Trancel8r LP, this has been re-worked several times right up until January 2014.
The Big Fix This song has been around in various guises since 2008! It now gets the official release after a number of painstaking changes. An ode to the 30's film noir tough guys, the song features a cinematic set of pad synths and FX.
The cover depicts triple helpings of ears in celebration of the ecstasy of sound in the title of the main song whilst hinting towards the 3rd LP title as well, "Three".
To hear more about the third LP by Trancel8r, go to his LP page.
YOU CAN BUY IT HERE STRAIGHT AWAY.
THE CD PURCHASE PRICE IS £2.50 THIS IS TO COVER SHIPPING AND PRINTING COSTS. (YOUR EP SINGLE WILL BE WITH YOU WITHIN 14 DAYS DEPENDING ON YOUR COUNTRY OF RESIDENCE)
CD SINGLE PRICE - £2.50p click below
Author: splash@christonabike.net
Copyright © 2007 onwards by www.christonabike.net. All rights reserved.
Revised: 28 Oct 2014 20:44:07 -0000 .
©2002 webtemplateszone.com free web templates at webtemplateszone