C O A B Discography - Single 12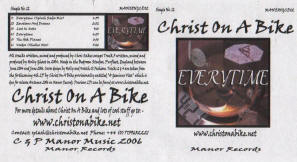 12th single: Everytime Release Date: 30th June 2006
Track List:
Everytime (Splash Radio Mix) (4:39)

Emotions And Dreams (Short Version)

(2:52)

Lost In SoHo

(9:01)

Everytime

(6:29)
The 10th Planet (3:58)

Voodoo (Shaker Mix)

(5:32)

= THIS TRACK IS STREAMED CLICK ON IT TO LISTEN
Songwriters:
1 – 4 & 6. Chris Sakes
5. Holly Ghast
Background to single
This song came out of a desire to record a dance anthem with a typical vocal line, it just so happened that trance at 130 bpm was fairly easy to incorporate a basic vocal sample with some added treated synth lines and background sounds.
Track 1. Everytime (Splash Radio Mix) has a well used vocal sample as the band has found out, but that is the risk when you record with legal samples you use that are generally available to anybody. However, the song is unique enough although perhaps typical of the trance genre, all hands in the air and glow sticks!?! This version has extra percussion and two synth counter-lines to balance out the lead synth, so just a little more pop-like than the original track which features on this single and the new LP.
Track 2, Emotions And Dreams was first just an instrumental but a chance found vocal line which was a little too slow for this track was speeded up, hence the pinky and perky vocals so commonly found on rap and hip-hop records these days! This is the short version of the song which will feature on the 4th LP "A Geminus Vita".
Track 3, Lost In SoHo is a more startling instrumental track based on a story of a runaway kid who finds himself in London's SoHo district facing strangers who won't help and a town he knows nothing about. The kid stumbles through shops, cafes and pubs coming across the myriad of characters that frequent this area. Many of whom you do not want to cross.
Track 4, Everytime is the full six minute version and will feature on the new LP.
Track 5, The 10th Planet was originally an outtake from the "Me, You And Jesus Two" LP, mainly because this is another instrumental electronica trance song and that LP already had plenty of instrumentals and songs in that sort of style. This is one of Holly's tunes first put forward along with "Can You Feel It".
Track 6, Voodoo (Shaker Mix) is a song which features Chris on vocal chant (Voodoo) with an additional female vocal and background vocals. The song is based around some rhythmic jungle style percussion and bubbly synth-lines and a frothy bass.
The cover is another one from Holly, using different sets of time pieces to denote the "every time" in the song.
To read more about the other singles continue on to each Singles titles page whilst the LPs can be found in the LP titles pages.
Buy it as a download from: Msoundz